We hope you love the products we recommend! Just so you know,As an Amazon Associate We earn from qualifying purchases. Thank you if you use our links, we really appreciate it!
As welders, above anything else, our safety is a top priority when we do our jobs day in and day out. And since we need visual clarity for us to do good work for either our clients or passion projects we need to protect our eyes all the time.
Our eyes are constantly exposed to debris or sparks coming off of what we are working on and this can pose serious dangers to our vision. Needless to say, our eyesight is everything not just as welders but in every aspect of our lives.
Helmets are our shield from such dangers and so, this article is a Yeswelder helmet review. One of the most trusted and best brands in the industry. Let's get started!
What is a true color welding helmet?
As much as these welding helmets protect our eyes and face when we are working, it's quite true that for decades now it has been hard to sometimes see through them. Most helmets don't let a lot of color through (for a good reason) except for maybe a lot of greens. It has always been a tricky business but not until recently.
There have been developments in terms of the technology involved in processing and manufacturing welding helmets. Here comes, true color welding helmets.
With the advent of these game-changing helmets, welders are now able to see better and clearer colors that would benefit them greatly as they do their job. This is made possible by specially designed filters that are fitted into the helmets to help create clearer and crispier vision.
And, at the same time, still getting adequate protection from harmful light and wavelengths such as ultraviolet, infrared, and blue. Not only that, but these helmets also reduce eye strain.
To date, it's not always all green that you'll see through your helmet but a lot of "true" colors. What a treat!
The technology used will be explained further once we discuss our featured products.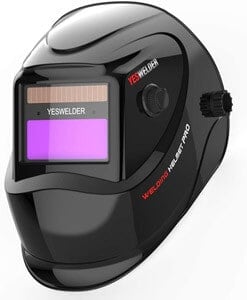 Yeswelder LYG L500A Welding Helmet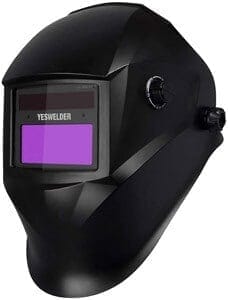 Yeswelder EH 1002 Welding Helmet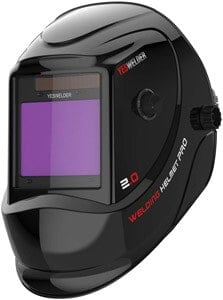 Yeswelder LYG M800D Welding Helmet
YESWELDER - LYG-L500A True Color Welding Helmet
Features Summary
Wide Shade 4/9-13
Perfect for TIG MIG MMA
Viewing Size is 3.64 X 1.67 inches plus Two Premium Sensors
Better clarity and True color view: 1/1/1/2 Optical Clarity
Magnifying Lens and Cheater Lens Compatible Design
Increased battery life
Superior comfort brought about by the pivot style headgear
Features in Focus
Starting off our true color welding helmet review with a superb and popular model. The YESWELDER True Color Solar Powered Auto Darkening Welding Helmet – LYG-L500A.
True Color and superb clarity
Now, your view when welding is not only good but better. This upgraded helmet from Yeswelder still has the 1-1-1-2 optical clarity rating, but with much-improved visibility and also eye strain reduction minimizing traditional lime green coloring in your helmet's view screen.
Comfortable and Lightweight
The Whole hood is designed with lightweight and unique headgear, so it's a more comfortable wear, even if you'll do so the whole day.
It's an overall great headgear and it comes in cool other designs, the LYG-L500A-A and the LYG-L500B, with the lightning and the fire female designs respectively.
Our Review
We've tried this one out and we were blown away by the features on such an affordable welding helmet. The shade adjustment, the auto-darkening, and the color are just so crisp we were very satisfied with it. No matter what your skill level is, this is a must-have, so grab yours now!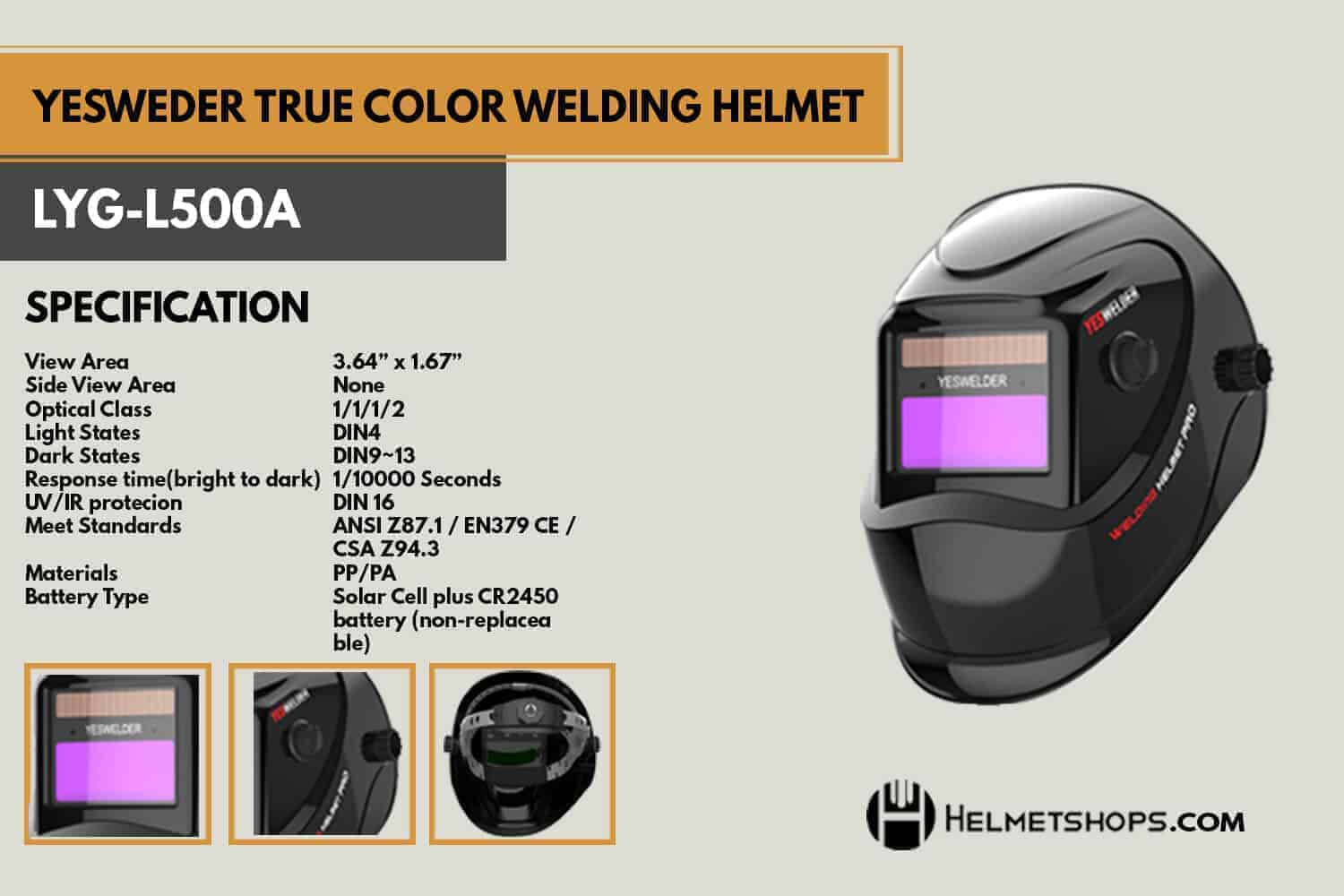 What do people say about it?
This model enjoys considerably good ratings online. In Amazon, it currently holds a 4.6 out of 5 stars rating with 75% 5-star ratings. It's hard to find negative reviews about this true-color welding helmet.
People are raving about how a great deal or a bargain this welding helmet is because it's quite affordable and surprisingly brings more quality than one would expect. The decent viewing area plus the fast auto-darkening response is a feature that is most often praised by users both pro and hobbyists. A good start for our list and the brand.
YESWELDER True Color 4/5/9 Welder Mask
Features Summary:
2 Arc Sensor 4/5-9
Perfect for TIG MIG MMA
Viewing Size is 3.64 X 1.67 inches plus Two Premium Sensors
Better clarity and True color view: 1/1/1/2 Optical Clarity
Magnifying Lens and Cheater Lens Compatible Design
Increased battery life
Superior comfort brought about by the pivot style headgear
Features in Focus:
Comfortable and Updated Headgear
This helmet is pampered with an oversized comfort cushion that will provide extensive adjustability, configuration, and also improved support because it is designed with a better fit in mind.
New and Improved Battery
There were complaints about Yeswelder products batteries dying on them prematurely. So this one has a new improved non-replaceable battery which is sure to last for a long while.
Our Review
The features on this one and its quality won't overwhelm you but it is still a good welding helmet especially for beginners. It's not too much to spend on and at the same time delivers the features you'd need. The true color design though is still top-notch.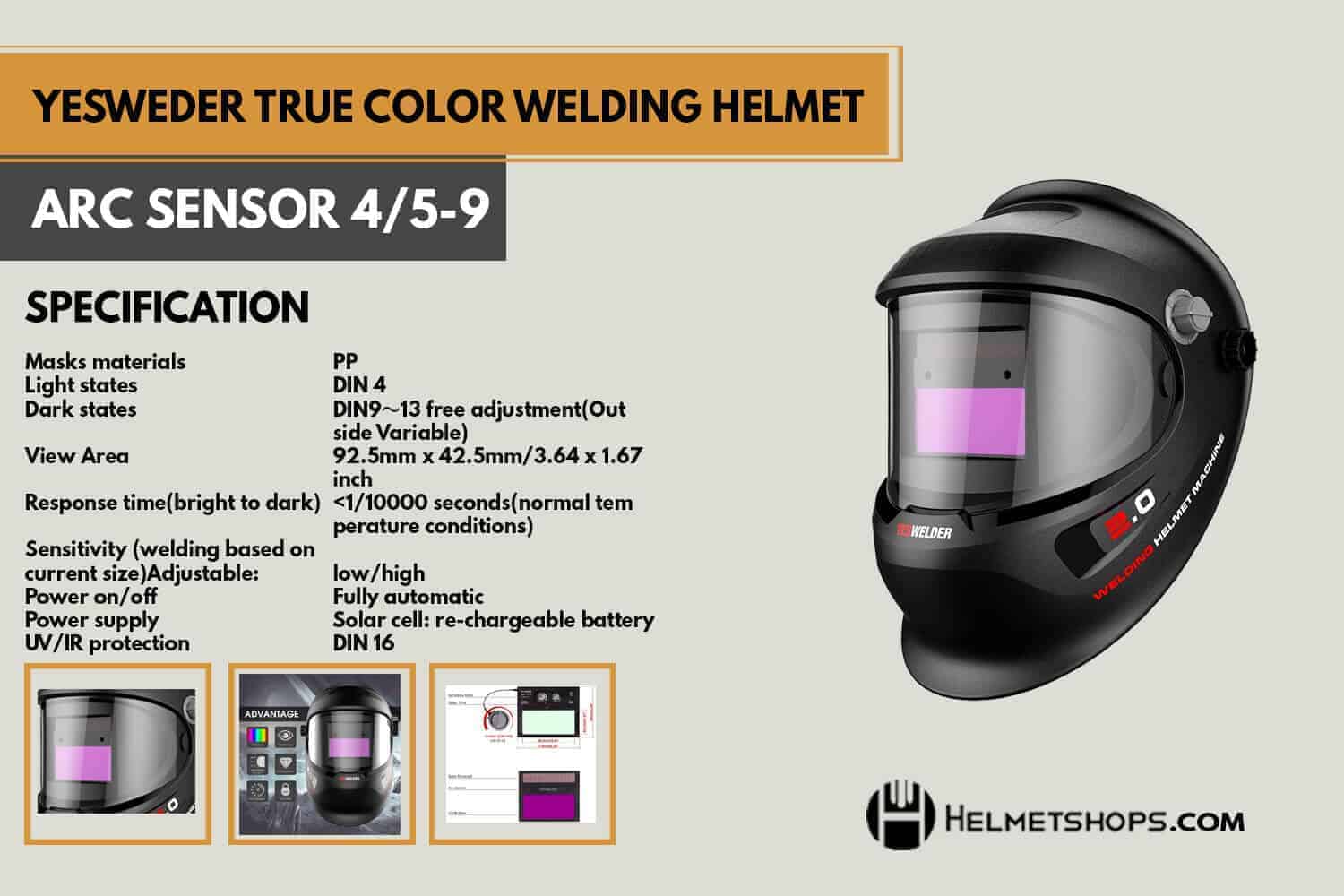 What do people say about it?
This model is less popular than the previous one, although it still enjoys pretty much decent reviews online. It currently holds a 4.1 out of 5 stars rating in Amazon and that's with 65% 5-star ratings. The comments and reviews are mostly positive.
What stands out is the adjustable shade that is super convenient to utilize. People are saying that the helmet itself works really well. It's also quite a durable helmet.
Some negative reviews pertain to some of the helmet's parts like the harness and the knobs getting turned easily. People are testifying that it's at a perfect weight so it's comfortable to wear and overall it's a great product.
YESWELDER LYG M800D auto darkening welding helmet
Features Summary:
Perfect for TIG MIG MMA with Grinding
Viewing Size 3.64 X 1.67 inches plus 2 Premium Sensors
Better clarity and True color view: 1/1/1/2 Optical Clarity
Increased battery life
Wider Shade Range: DIN4 / DIN9~13
Response time is at ≤1/10000 S
Features in Focus
This one comes with a new and improved solar cell battery, easily adjustable time delay plus sensitivity control, and some nifty features like an automatic ON/OFF mode, low battery indicator, and a quick grind switch best for grinding before welding.
Consistent Protection
This helmet is infused with a passive UV/IR filter that works continuously and also independently, to provide consistent functionalities with or without power.
Our Review
This model is superb, it's durable, it is constructed with passion and works as a top-notch welding helmet. If you're looking for the ultimate protection for your eyes and face then look no further. It's comfortable to wear plus your vision, we tell you, is safe from any flashes.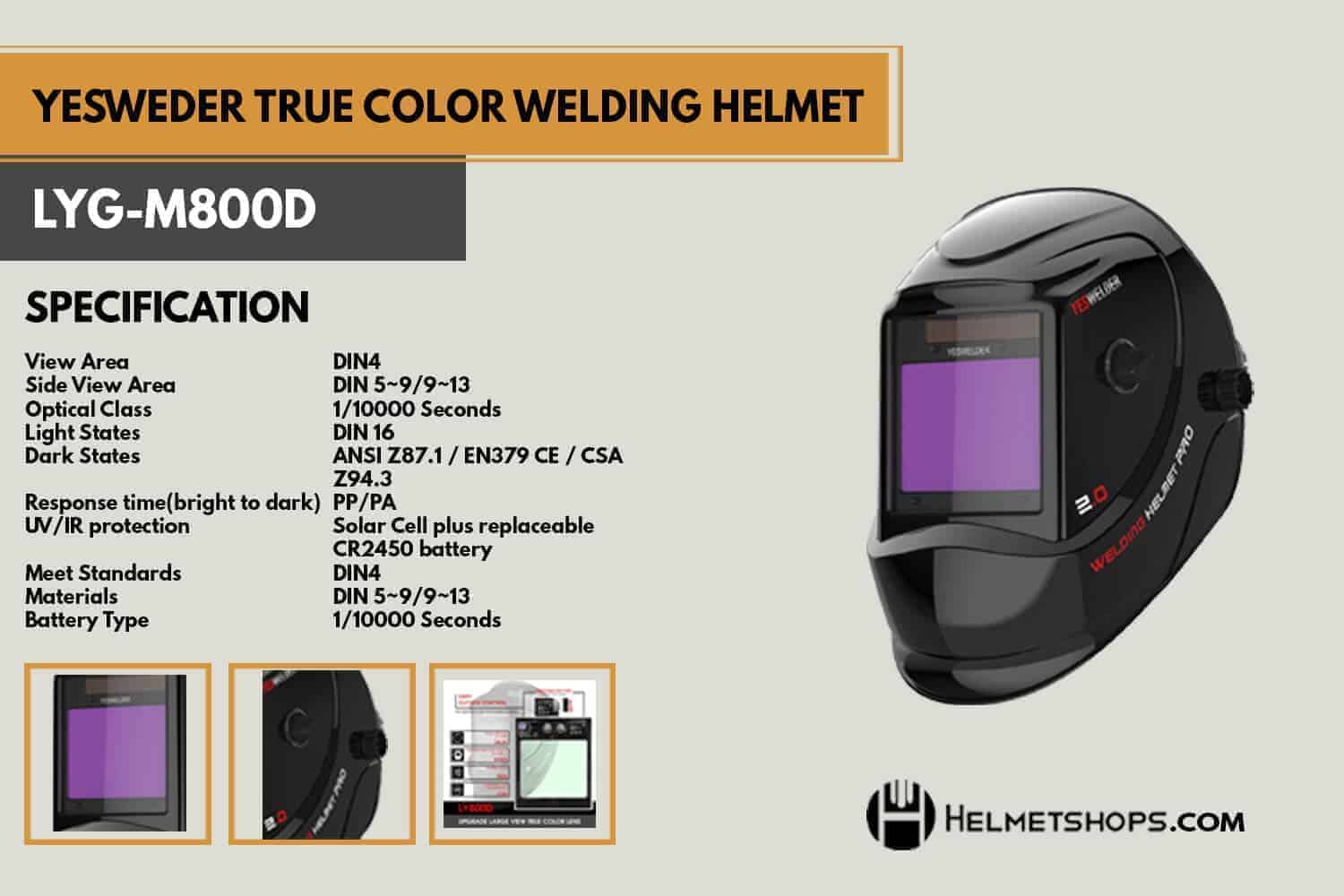 What do people say about it?
At this point, we think that it's quite common for Yeswelder products to get adoration from its users and buyers. I mean, the quality is vindicated by the reviewers. This one, you guessed it, also gets good reviews online.
Standing at 4.5 out of 5 stars and that's 73% 5-star ratings it's no doubt a quality product. Great value for money, perfect for serious welders, a great fit, and the functionality is off the charts.
YESWELDER-EH-1002 Welding Helmet
Features Summary
4 Arc Sensor Wide Shade 4~5/9-9/13
Perfect for TIG MIG MMA
Plasma Applications infused with Grinding Feature
Ultra Large Viewing Size with 3.93 X 3.27 inches plus 4 Premium Sensors
Better clarity and True color view: 1/1/1/2 Optical Clarity
Increased battery life
Superior comfort brought about by the pivot style headgear
Features in Focus:
Wide-Screen View
True Color technology that enables you to see better, and most especially see more. The large viewport gives you a full range vision of your welding area. This, in turn, enhances your overall control.
Comfortable Headgear
Just an overall properly cushioned headgear with the best fit and comfort offered to its user.
Our Review
This one is also a top-rated welding helmet. Not only is its true color feature spot on but at the same time, it is quite ideal any skill level. The large frame or viewport is its most notable feature so you get the best view of what you are working on with crystal clear clarity.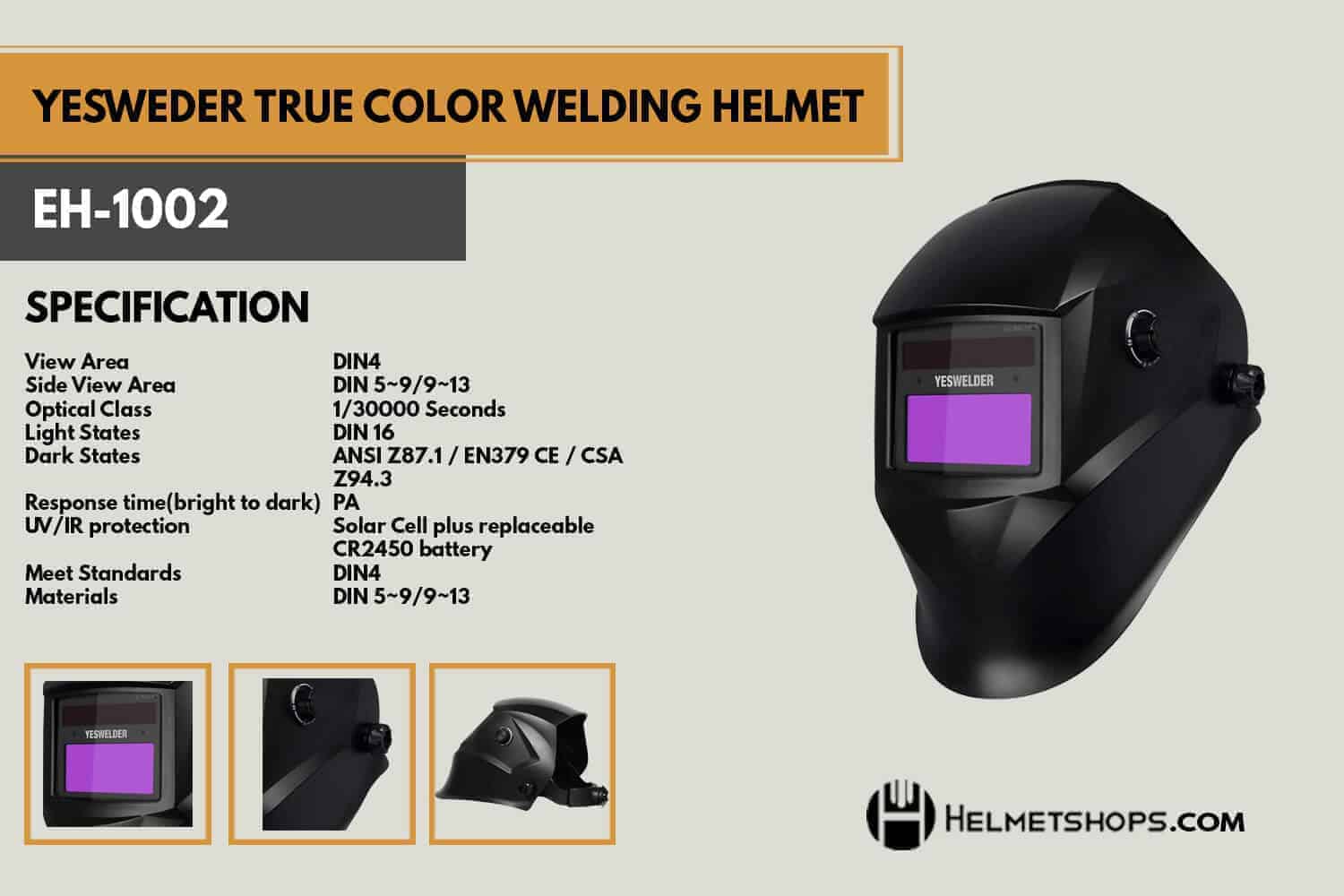 What do people say about it?
The last model from Yeswelder is also doing pretty well online. Once again, in Amazon, it holds 4.5 out 5 stars average and 76% 5-star ratings. The major negative review we found for it is that there are some arc flashes when welding and that can't be good.
But aside from that most other reviews are on the good side. It's indeed a near true color welding helmet and it's perfect for TIG MIG and ARC. Works just as well as advertised. We congratulate the brand for a job well done on developing these awesome true color welding helmets.
That's the last product on our true color welding helmet review, but wait there's more! More valuable information on our next few sections, so just keep on reading.
Yeswelder's mantra is perhaps delivering high-quality but affordable welding equipment meant for not only seasoned welders but most especially those who are breaking in the field.
A vision to not only be another welding company prompted the brand to create high-end welding equipment for all skill levels. They scoured the world, spoke with all kinds of welders to understand what they really need. The result, accessible welding tools that make welder's job easier and more comfortable not mentioning better even for non-professionals and hobbyists.
Started manufacturing in 2006, Yeswelder is now a direct to consumer business since 2018. No middlemen, no suppliers, it's the company and you doing business directly. It has become a force in the industry and because of their down to earth strategies they understand more about their clientele yielding to high-quality equipment.
Yeswelder Helmet : The Buying Guide
As part of our comprehensive research, we present to you the things you should watch out for when buying a new true color welding helmet.
The first thing that you got to check is its very essence. It's quite straightforward, a true color welding helmet will give you superb clarity of vision and at well – better colors. But what we have to realize is one important component – the auto-darkening feature.
Make sure to check out the quality and adjustability of the auto-darkening filter on your helmet. There is what we call the response/reaction time which is the time it takes to switch from light mode to dark mode.
What is the adjustable latency of your helmet when switching back and forth? Your eyes will strain faster and your vision may get affected if you keep on looking at glowing lights as you work. So remember, auto-darkening is key!
It's also important to take note of the different levels of shading that you use for a variety of jobs. Again, make sure the helmet is easily adjustable in this regard.
Also, check out the knobs for manual adjustment, check for sensitivity, and check for functionality. You don't want them to go bad before the actual helmet. That's a big no-no!
The next thing you got to make sure is the viewport size. Large viewing screens are best for beginners because you don't need to move your head that much while working, you can follow arcs easier.
On the other hand, smaller viewing screens are preferable for more seasoned welders especially for auto-darkening welding helmets, although the ergonomics and the overall design of the mask should not be disregarded.
Also, take note that smaller viewports equate to lighter masks and lighter masks equate to lesser strain on your neck. Which brings us to the overall weight of the helmet. Make sure it's not much.
Material. Welding helmets are mostly made of Polycarbonate, ABS plastic, and Nylon 66 (PA66). Naturally, each would have their unique advantage over the other and other ramifications too.
Polycarbonates are safe, durable, and high-impact resistance material. The downside of this one is that it's not that scratch-resistant. ABS plastic, on the other hand, is tough and has no discernable melting point. It's also quite shock-absorbent. Lastly, Nylon 66 is quite highly recommended because it is tough, has high mechanical strength, and has high energy radiation resistance.
Warranty is also quite important. Make sure to protect your investment for any parts replacement and at the same time availability of any additional parts.
Respirator system? Some welding helmets (expensive ones) have respiratory systems built-in them. Inhaling fumes every time ain't too good for your body so maybe that extra investment on this feature is worth it. Or maybe you can try a dust shield.
Overall, look for a headgear that fits well, has got good cushioning, and is adjustable. You're going to wear this all day most of the time so make sure that it's comfortable.
FAQ - YESWELDER HELMET REVIEW
Here are concise answers to some common questions related to helmets, safety, and eyesight.
We urge hobbyists and professional welders alike to always wear safety helmets when working. And these Yeswelder true color welding helmets are some of the best products out there that you can choose from.
Maximum protection guaranteed! Built tough, built to last, and most of all at a good price point. You'd never ask for more once you've tried these awesome safety gear. Oh! never hesitate as a novice, because these are the best welding masks for beginners.  
Thank you so much for checking out our Yeswelder helmet review, and we hope that you picked up a thing or two that could be valuable not only for your next shopping decision but to your career.
Stay safe!