We hope you love the products we recommend! Just so you know,As an Amazon Associate We earn from qualifying purchases. Thank you if you use our links, we really appreciate it!
So what's the most vital feature when it comes to getting yourself a helmet? Is it look? Or is it its performance? Although getting one with both the combination is rare but in the case of yema ym-925, it's very different.
However, this particular hood does not only have a striking look in white but also possesses some great features that are enough to make your day. And if you are a biker, then no other person will certainly recognize the high quality helmet, that a biker can.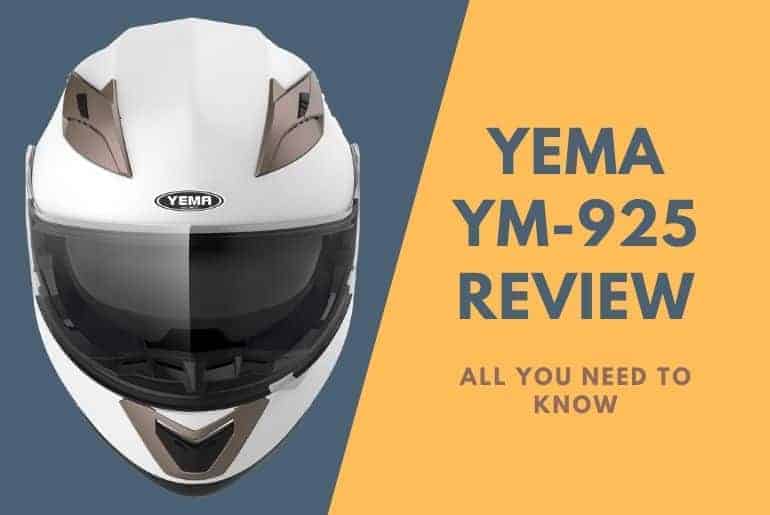 So, if you want to get introduced to this awesome helmet, then you must go through this ym-925 review.
In A Rush? Take A Quick Look!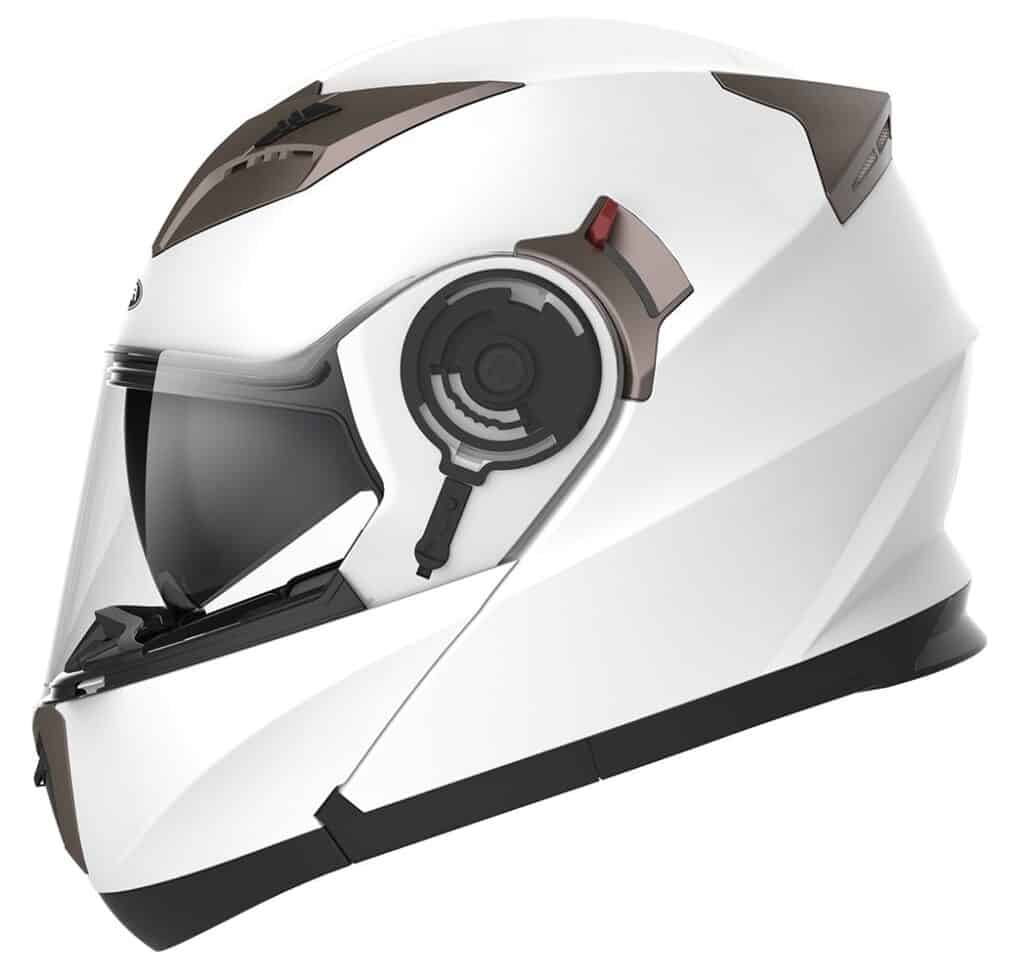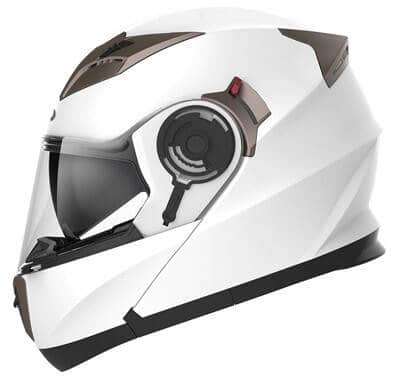 Yema Ym-925
WHY THIS IS BETTER THAN OTHERS?
Adjustable Intake And Exhaust Vents.
Quick Release Buckle For Easy Functioning Of Strap.
Airflow Can Be Controlled With A Switch.
Features Of Yema Ym-925 Motorcycle Helmet
Design
Although, coming in a dashing white color, Yema ym-925 happens to be a full face helmet for which you will get to experience a good protection. Besides, you will also love its versatility factor since it is able to go from full face to 3-4 face helmet.
As for the shape, the brand has designed it in Oval shape so it might not fit most of the heads. However, you will find a quick release buckle so that even if it feels loose, you can fasten the strap easily for placing it tightly to your head.
Material
In general, the outer shell of ym-925 has been made from Aerodynamic ABS material. As far we know, this is one of the most common materials that are used in the helmets. Not only it helps reduce the weight of the helmet, but also spreads the impact so you can get enough protection.
Meanwhile, the inner part of this full face helmet has used Multi-Density EPS liner which is stated to be a great material for interior. It does not only keep your head cool in warm weather, but also does the opposite in cool weather. To ice the cake, the liner has been made detachable so you can take it out and wash it for keeping it fresh and obviously free of odor. It means that with each wash, the helmet will feel new.
However, some of the users have felt the material to be on the cheaper side, but that is in case of outer shell.
In short, if the brand takes care of that and upgrades the helmet with high quality material all over the product, then this is able to be the best in the market.
Aeration
In addition, this full face helmet comes with an adjustable intake and exhaust vents. With this, the hood can generate a continuous and light airflow that helps keep you cool and comfortable. So, you can say that the Ym-925 does have a great ventilation system.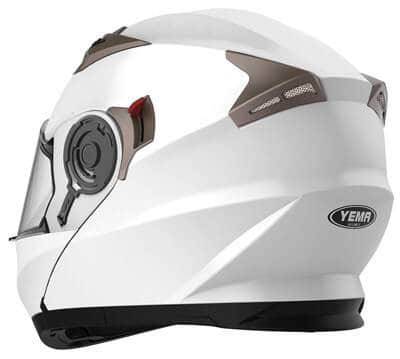 Moreover, you will also find this yema helmet very convenient since you will have the option to open and close the vents. Through this, you can control the airflow easily just by using the switch that you will find on the side of the hood.
Whereas, besides providing plenty of air, there are some minor issues. One concern is that the top vents feel more on the cheap side because of the material used for it. And the other is that if you close the vents, it will not prevent air from entering the helmet completely. And this can cause a cold head in winter season.
Visor
Nevertheless, you will definitely find the visor to be pretty great of this yema full face helmet. Not just that, there is also a switch so you can change the shade from smoked visor to clear view visor with ease.
Besides, having a clear visor, you will find a red switch on the side of the hood that helps release the visor down. With this, you can also use it to put another visor back. And this is a kind of feature that surely you will love.
Moreover, there is also a clamp at the bottom that allows for lifting the bottom piece up so that you can make the helmet look more traditional.
But there is a little concern. And that is the visor tends to fog up even though the helmet has great ventilation system.
On a positive note, the visor is rugged and at least it won't flip up in the wind while you keep it partially open.
Advantages And Disadvantages Of Yema Ym-925
Pros
Can be converted to 3/4 face helmet from full face.
Outer shell has been made up of rugged material.
Inner shell is made up of high quality fabric that will keep you cool in warm weather and warm in cool weather.
You can remove the inner fabric for wash to keep it fresh and free of odor.
Airflow can be controlled with a switch.
Red switch lets you change the visor form smoked shade to clear view and vice versa.
Cons
Some of you might find the outer material cheap.
Oval shape so it might not fit many of the user heads.
Top vents used cheaper material.
The helmet doesn't prevent air from entering the helmet completely even after closing the vents.
Visor tends to fog up.
Size Chart
In our Ym-925 review we would like to give you a size chart of Yema helmet.
Here is a chart for sizing that has been provided by the brand so that you can measure and understand the size that will fit your head. However, the brand has recommended to pick one size larger. And before you buy it, we suggest you to give a trial for getting a proper size.
| | | | | | |
| --- | --- | --- | --- | --- | --- |
| | S | M | L | XL | XXL |
| Inches | 21.6 to 22 | 22.4 to 22.8 | 23.2 to 23.6 | 24 to 24.4 | 24.8 to 25.2 |
| Centimeter | 55 to 56 | 57 to 58 | 59 to 60 | 61 to 62 | 63 to 64 |
Let's Watch An Exclusive Video Of YEMA Helmet
Wrap Up
Lastly, YEMA YM-925 helmet has been loved both by male and female users since it is a unisex hood. Not only it has been DOT certified for offering safety but also has been equipped with great ventilation system so you can enjoy a ton of airflow. Subsequently, its visor switching system is another cool factor that also can be a big reason to get the helmet!
Hope you enjoy our review. Last but not the least, Never Drink And Drive!