We hope you love the products we recommend! Just so you know,As an Amazon Associate We earn from qualifying purchases. Thank you if you use our links, we really appreciate it!
Have you ever heard of a helmet with 'Badass' looking? Yup this is what Scorpion is offering to their customers so it can add a different thrill to their ride. So if you want to enhance your badass look, this helmet can make a very great option. And it's not only the looks that have struck the people, there are some other factors that deserve to be highlighted. And that made you curious enough to know about it, you must check out this Scorpion exo covert helmet review.
In A Rush? Take A Quick Look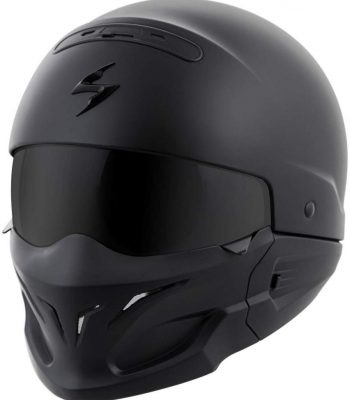 Scorpion Exo Covert Helmet
Why this is better than others?
Significant Of Scorpion Exo Covert Helmet
Features Of Scorpion Exo Covert Helmet
One of the most striking features that singles this helmet out is that it can be versatile enough to turn a half size hood into a three-quarter open face helmet and then into what they say an aggressive 'Badass' looking helmet. There you will find a rear sleeve that will let you convert it to the open face style and once you attach the front mask, you will get its 'Badass' looking style. Obviously, this is not a flip up helmet. However, I can assure you that once you wear this, you will be in love with it.
Speaking more of the face mask, it uses two Neodymium magnets that snap itself to the front of the hood smartly. Although such tasks can be done in a jiffy but in case of adding the sleeve, it will require a few seconds more.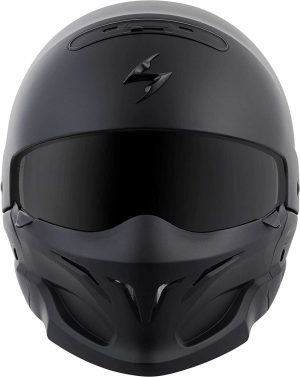 However, taking the stuff out might take longer time but that won't exceed a minute. 
Besides, another issue that many people talked about is its lack of room for wearing ear-buds. If you wear the smaller size you will find it too tight in the ear areas so placing extra stuffs will be wrong. But if you go for the bigger size, it might do the trick.
Scorpion as designed the external shell with an Advanced LG Polycarbonate material. This is kind of material that you can trust since it makes the shell solid enough to protect your head. Not only it distributes impact but also reduces weight. So a big thumbs for its rugged outer shell. This polycarbonate shell makes the helmet hard enough to prevent any unwanted situation like accidents.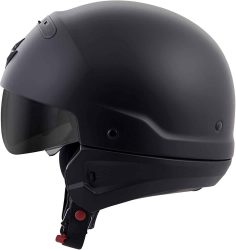 As for the inner one, the liner has been made up of KwikWick II fabric. It is an antimicrobial comfort lining that helps keep you dry and cool in warm sunny days. Not just that, it also keeps you warm as well in colder days. You will find both the crown liner and roll or cheek pad easily removable so you can take them out for washing. 
However, there were some complaints found regarding the pads stating that it does allow for ear-buds since it makes the room tighter.
Since it is not literally a full face helmet, so yes you can guess some wind noise which can be an issue. Owing to the modular nature of Covert, there will some noise but coming in a half helmet will still reduce some for you.
However, if you are someone who is used to wearing ¾ helmet, it should not be that much of a concern anyway.
The Covert come with the Aero Tuned Ventilation System of Dual Density EPS that is equipped with 2 intake vents through the top of the hood and extra mouth vent into the face mask. This combo does not only ensure excellent internal airflow but also protects the visor from getting fogged up.​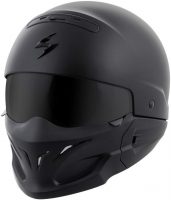 ​Although you cannot close the vents but you can modify it with placing adhesive Velcro padding so it can block the vents during cold or monsoon season.
The Covert can be a cool mate for using in different season but you might want to avoid it during winter. Other than that, the helmet is awesome!
Visor Of Scorpion Covert helmet
One of the big pluses of Covert is its clear visors. It comes with a retractable internal drop down sun shield that is a very cool feature of the hood. It basically slides into the helmet so it can give a clean look while the shield is up. Although, the helmet has a smoked visor that comes installed but you will get a spare one as well that will have a clear view so you can enjoy your ride in the nighttime. Hope you will like the sun visor of this helmet. 
However, the only problem with sliding up and down the visor is: it will require both of your hands to do the job. Try with one hand and you will have a very hard time. And that's what many users were seen complaining about.
The ScorpionExo Covert comes in classic matte black color. Besides, the helmet has not graphic as it comes in solid look. So, you will have limitations in color choices. But if you happen to like matte black color, then this 'Badass' helmet must be included in your gear list. 
As for the size, you will get it in the range from small to 3XL. So, before you make a purchase, make sure you buy the one that will fit your head appropriately.
The Covert has been stated to be a unisex helmet so both male and female can use it easily depending on their head sizes. Although, this particular helmet has been designed for adults only, so you must list it down as well. 
Hope you have enjoyed our scorpion exo covert helmet review!  
Almost everything is great about this 'Badass' looking helmet except for some bugs that are not a big deal. Because, this helmet has a number of bright sides that will give you more reasons to go with it. Starting from its looks to its design and functions, the helmet has almost all the basic essentials that can meet you requirement. And as we have covered both the positive and negative aspects, it will be easier for you to make a decision.