We hope you love the products we recommend! Just so you know,As an Amazon Associate We earn from qualifying purchases. Thank you if you use our links, we really appreciate it!
Being a welder, you surely know the significance of a welding helmet. The beast does not only stay with you to protect you from all the risks and dangers but also bears a number of welding abuses. And if you think you lack such friend, then give Antra a try. 
They have not only earned the trust of their customers but also have proven themselves great for offering quality welding helmet. Check out this antra ah6 260 review that has highlighted each and every feature of the product so you can understand the reason. Let's start by its benefits!
In A Rush? Take A Quick Look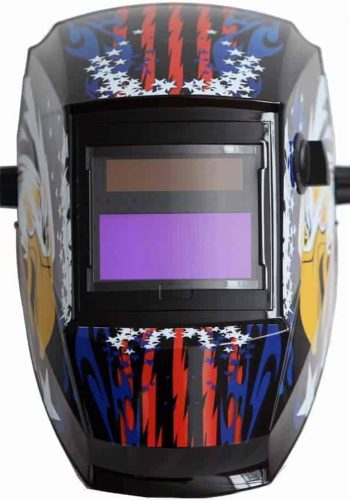 Why this is better than others?
We will discuss some advantages and disadvantages of this auto darkening welding helmet. We hope our review will help you to take the decision whether you will buy this head gear or not? 
We will really appreciate, if you visit our other reviews of antra welding helmet. 
What are the ADVANTAGES OF Having Antra AH6-260?
Welding, Cutting, Grinding
This light weight welding helmet is a beauty that knows how to boost up your passion for welding. Not only it has been marked as perfect to be used for such techniques, but also has been proven awesome for cutting as well as grinding. You will love to utilize the hood that is designed with Grinding features for Plasma, Tungsten inert gas (TIG), Manual metal arc (MMA) and much more.
How Fast Does The Swift Switching Time Work?
Due to its auto-darkening feature, you can expect the helmet to turn into dark mode from the light one. To add a cherry on top, its switch or delay time is quick enough to protect you from different risks and hazards. And at 0.00004 seconds reaction time from dark to light and vice versa, you can guess that already. This feature makes it even ideal for all the welders who are new to UV rays.
How To Do Delay And Sensitivity Adjustments?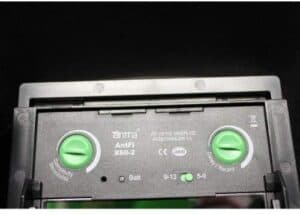 Inside the helmet, you will find two different knobs: one is for delay adjustments and the other is for sensitivity adjustments. Adjusting the delay to the max will allow a one-second delay prior to coming out from dark to normal mode. 
This way, you will not get any flash from metal even if it's in hot condition. As for the sensitivity, adjusting it to the max will make sure that the response time is quick so you can be up for the job again.
You can also give credit to its 4 premium sensors for which you can enjoy easy welding. With these sensors, this helmet will sense the lighting condition so that it can keep you away from falling into awkward welding situations.
There is a dial on the left outside of the helmet that does the main wonder. With this, you can adjust the shade as per requirement from 4 to 13 easily for grinding or darkening. This is quite effective especially when you use low amperage during stick welding on thin metals.
The auto darkening lens of the helmet can amaze you for its quick responsiveness to electric arc. And since you will be working in welding kind of jobs, it is expected to get scratches on the helmet lens during its usage. So to solve this issue up, the brand has included some extra lens covers both for inside and outside so you can change it up and continue welding easily.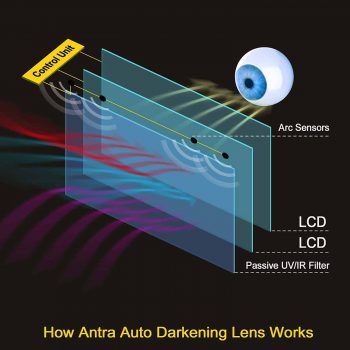 Length Of The Viewing Area?
This antra welding helmet is not only equipped with 4 premium sensors but viewing size of the helmet is very wide. Coming in around 3.86 inches by 1.73 inches, it feels somewhat large and comfy for performing a number of welding jobs.
Does The Helmet Provide Any Safety Shield?
The helmet has another feature that protects you against UV and IR radiations. What this feature does is, it enable a shield automatically during electric failure so it can give all the protection just to save you.
What Are The DISADVANTAGES OF Having AH6-260-6217?
Oversensitive Sensors
There are some users that have claimed the sensors to be oversensitive. However, the good news is you can fix it just via adjusting it to the lighting intensity. Besides, you will also have an option to exchange the defective part by calling the manufacturer. Once you get yourself a new version, it should not be an issue anymore.
Flimsy Knobs
We have found some complains regarding the knobs of this solar power auto darkening welding helmet. Since it is made up of plastic, you might find it cheap. Besides, some also said that the knobs do not hold the helmet properly since it keeps on sliding down all the time. So, it might not work for tightening the helmet well.
Short Durability
Many users were disappointed with the product since it didn't last longer that they expected. Although for an affordable price, it does offer great performance. And having made up of material like Polyamide Nylon that is stated to be High Impact, you might not expect short durability. 
We would suggest you to have a try on antra ah7, if you need some more variety. 
Some Frequently Asking Questions About The Helmet
Although the helmet possesses a few minor drawbacks that don't lessen the quality of the product. If you keep them aside, you will find it ideal enough to utilize for your welding passions. Not just that, you will also love its versatility that made it stand out from all of its rivals. The helmet looks very nice, and it is the best helmet for the price. So, hopefully Antra welding helmets will give you immense comfort and pleasure.